Schrijverts!
Iedere dinsdag een nieuwe kans om al je spelfouten te corrigeren of heel veel nieuwe te maken
(gummen en koekjes in overvloed)
✒️🖌🖍✏️🖋🖊
Fictie, poëzie, gesproken woord, pulp, scriptie, essays, scripts, tijdschriften, pulp of strips: schrijvers van alle leeftijden genres zijn welkom! Periodes van in stilte schrijven (20/30 minuten) worden afgewisseld met momenten om te praten, te huilen en iets te drinken.

We ontmoeten elkaar elke dinsdag: 19:00 inloop, 19:30 start, tot ca. 22:00.
Uw gastvrouwen zijn Marijke en Marielle

***

Writerts!
Every tuesday you can come to ook_huis to correct all your spelling mistakes - and make lots of new ones
(cookies and erasers in abundance)
✒️🖌🖍✏️🖋🖊
Fiction, poetry, spoken word, pulp, thesis, essays, scripts, journals or comics: writers of all ages and genres are welcome! There will be time slots to write in silence (20/30 minutes) and moments to relax, talk, cry and get a drink.

We meet up every Tuesday from 19:00 (door open) to 22:00h
Your hosts: Marijke & Marielle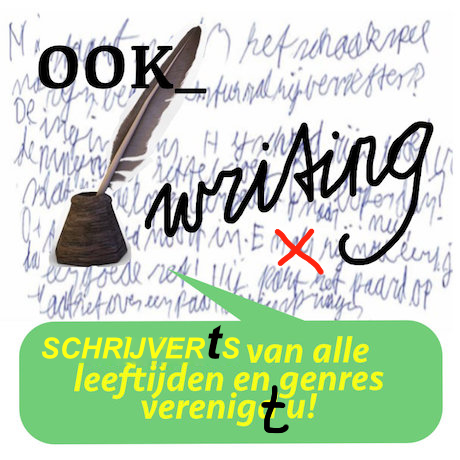 OOK_ SCHRIJVEN
UPDATE!
We ontmoeten elkaar nu elke dinsdag om 19:30 uur in Slack (online platform).
Tijdens de even weekcijfers schrijven we in het Nederlands, bij ongelijke weekcijfers in het Engels!
Als je mee wil doen: mail naar info@ook.website, dan sturen we je een uitnodigingslink...

We are now meeting online at Slack every Tuesday at 19:30h.
In the even weeknumbers we write in Dutch, in uneven weeknumbers English!
If you want to join: please email to info@ook.website so we can send you an invitation-link...